We had a great turn-out for ylab's kick-off event. We're guessing that between 75 and 100 people came out. The volunteers put a lot of work into it, and we want to thank everyone who attended for making it such a success. We have many new volunteers, and, of course, we're always looking for more – email us at info(at)ylab(dot)ca.
We announced our first five events, and they'll be showing up soon on the website. We'll post them in a separate entry. The dates and times we announced are confirmed. We just need to cover the final details.
Special mentions go out to:
Canada Robotix for hosting the event – and Jack for his drive to make it happen.
Proto3000 for loaning us a MakerBot2.
Richard for making the first ylab 3D-printed logo and the laser-cut name tags for the volunteers.
All the Canada Robotix staff and ylab volunteers who kept things running smoothly.
Best of all, we had a bunch of makers who brought in some of their amazing creations. Check them out below – and thanks to Pek and Chhing for providing the pictures.
Our host's shop. We hope we didn't scare too many customers.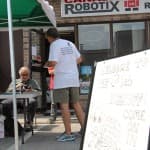 Maker Ross shows off his Turtlebot and its old friends:
Laser-cutter projects galore! Maker Richard brings out several projects he's completed with a laser cutter:
Richard also enlist comrades to make rope:
Richard also brought in his own 3D printer:
To run alongside the MakerBot Replicator 2 generously provided by Proto3000:
Makers Paul and Sarah showed off their pick-and-placer prototype project completed in one and a half months. The pick-and-place arm picks up surface-mount components and places them in their spot on the circuit board:
Maker Jay brings out his light sabers and robotic vehicles and creatures:
The best kind of networking – meet new friends, learn something new, and play!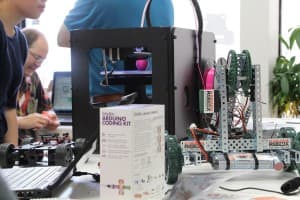 Thank you all for coming out! Until next time…