Y Lab's Car Hacks night was a big success, with about 25 people coming out for our talk on how it's still possible to work on your car yourself, on some of the auto security hacks we've been reading about in the news, and finally, by demonstrating several different devices you can use to read and reset a car's engine readings and diagnostic codes. Emily from autoniche kept us in line with some most appropriate words of caution and advice to keep us from harming ourselves and others.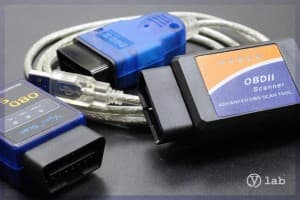 After the talk, we went out to the parking lot, brought together people's cars, and tried out the devices. There were some glitches, and everyone chipped in to sort them out. No vehicles were harmed.
We're thrilled at the turn-out – we originally thought we would have about 10 people, so a big thanks to Markham Public Library for stepping in with a room at Thornhill Public Library to accommodate everyone.

This was the first event where we had live tweets to @ylab_maker. Tip of the hat to Avery, Jack and Pek for dragging us out of the dark ages and working twitter, our web site and ylab_maker on facebook. And thanks for all the positive tweets and comments and for helping get the word out.
Don't forget to register for our big night at The David Dunlap Observatory on Wednesday, August 19.