All this just to pop a balloon???
While ylab maker space is for adults, it doesn't stop us from helping out with some stuff for kids. If you've come to one of our open houses, you've seen some of the things we've put together for Scout groups and camps. This fall we provided some assistance for a Rube Goldberg machine project.
The Scouts from 8th Richmond Hill group are a fixture at Richmond Hill and other area events – the Santa Claus Parade, camping out in the snow at the Richmond Hill Winter Carnival (coming up on Feb 2 & 3 2019), the Remembrance Day March, helping out at York Region Amateur Radio Club's hamfest… and generally keeping your kids out of the kind of trouble you don't want them into, and into the kind of fun trouble you get into at Scout camps and events.
The group has a Technical Venturers company that we've worked with to develop amateur radio certification material. This fall they were participating in the Blue Springs Scout Reserve Rube Goldberg Machine contest.
The result – with all components built by the youth – is a monumentally complex system to pop a balloon. They used Meccano, Lego, Hot Wheels and other old toys; a steam engine; Arduino electronics… and the list goes on. Check out the video of the creation here on youtube. It filled a basement. No, it wasn't our DDO basement.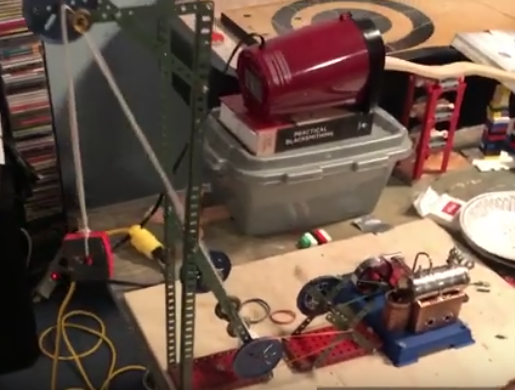 Video submission for the contest was Dec 31, and they are eagerly awaiting completion of the judging some time in January.
Come out to the maker space, learn some new skills, and you can have a lot of fun spreading the knowledge by helping out with other groups. Might even be your own kid!