Month:
September 2016
Based on the lack of posts and updates, people say it's been quiet the last couple of months.
Over the spring and summer, we've received some interesting equipment donations, and they've been put to good use. This picture of ylab member Gilles at work in the space says it all.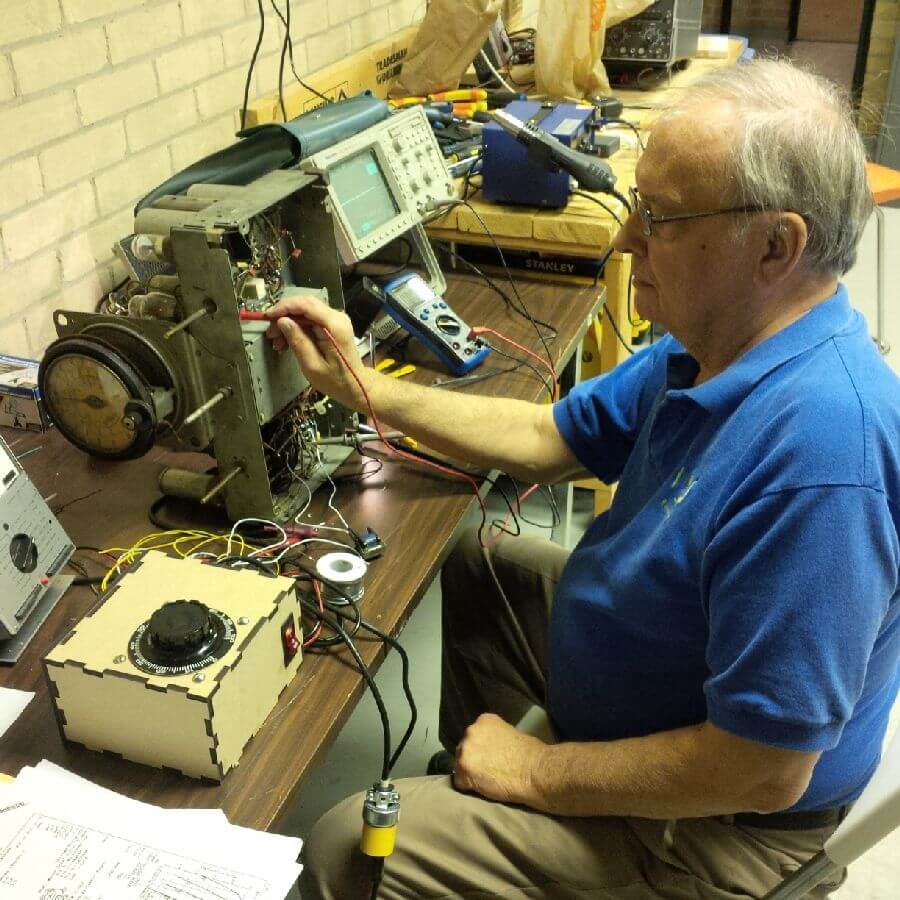 Gilles has been  working away almost every night we've been open this summer to restore an old Philco tube radio from the early 1930's. It's owned by a  DDO volunteer who's carted it around in moves across North America, hoping to eventually get it working. It's been on display in the DDO library for… like, ever. We thought it came with the building.
Starting from the left side of the picture, there's a partial shot of a gray device with a black knob in the middle. That's one of a donated batch of 40 year-old voltmeters we've repaired and calibrated and have available for our classes. Watching the needle swing from side to side can tell you a lot more than flashing, unreadable numbers on a digital unit.
Then there's the beige box with a big huge dial. The dial is part of a variac,  a variable voltage  AC transformer that can handle big power. The kind of thing you need if you want to gently power up and test an old tube radio instead of slamming it with 110 AC volts. The varactor arrived in a batch of components donated by member Nick. Gilles spotted it,  and built the custom case for it using our laser cutter. He learned to do that in our 2D design/laser cutter class. Notice how nicely the panels fit together.
To the right of the radio, there's an oscilloscope loaned by member Richard. If you come by and see Gilles working , you'll notice a different Philips oscilloscope. Another donation.
The table he's working on and the workbench next to it? Yeah, they were donated too.
We paid for a few things. The soldering irons, the solder, and the digital multimeter that he's clearly not using.
The work is not complete.  Gilles has carefully checked every component. He's replaced all the capacitors, tested  and re-soldered connections, and moved up to testing one sub-circuit at a time. He's getting some sound out of it now, but at last report, he may need to rewind a coil.
Take a nice quiet place to work, add some decent equipment, and top it off with some patience, skill and training, and it's amazing what can happen.
Nicely sums up why we're here, doesn't it?
Click here to comment on the facebook page.
---
Things will get noisy this week with our laser cutter class on Monday and Wednesday, and even more so with Thursday being the first night of our 8-week ham radio licensing program being an open house. We'll be demonstrating lots of technology and some amazing new digital radio stuff.
Simultaneous with the radio class, YRARC volunteers will be in the radio room with ylab members who received their certification earlier this year.
We're changing things up for the fall!
OPEN HOUSE NIGHTS: LESS IS MORE!
We've halted our regular open house Wednesdays to make them even better.
Starting October 12, we'll have them bi-weekly, on every second Wednesday, and feature a free one-hour seminar/demo session at each one.
To kick it off, we've scheduled a free What's this Arduino Stuff All About? on Wednesday October 12. For those who want more hands-on, we'll have an advanced, 3-hour class that's in planning now.
But what's happening between now and then?
YOU WANT CLASSES? WE GOT CLASSES!
We're kicking it off with our two-evening 2D Design/Laser Cutting class that's happening next week, Monday Sept. 12 and Wed Sept. 14.
Our 8-week ham radio certificaton sessions start on Thursday Sept. 15, and we've made the first session a free ham radio open house night. Come out and see what ham radio is all about in the age of Arduino, Raspberrie Pi and the age of digital, software-defined radios.
BREAKING NEWS: Our not-a-l*ght-s*bre making class (it might happen to look like one, but is clearly not, as we don't want Lucasfilm to be upset with us) is open for registration.  YLAB MEMBERS: Check your email for the secret access code.
EMAIL LIST GOING AWAY
Some of you receive messages through our meetup.com group and because you're on our email list.
We'll have one more email notice through our non-meetup email service and then kill it. Communications will be through this meetup group and direct emails to paid members.
The privacy rules around email make it almost impossible to manage an email list without using a professional email management service, and we've done that scrupulously since the startof ylab. We've had sign-up lists and have not added anyone without their express consent. We used Elite Email's excellent free service. But people who've willfully signed up will frequently mark the messages as spam instead of unsubscribing. This creates a vicious circle where the major email programs like google and yahoo then automatically flag all the emails from the service to the spam folder. We know from the Elite Email reporting service that the open rate is dismal, and people tell us they didn't get a notice because it went to the spam folder.